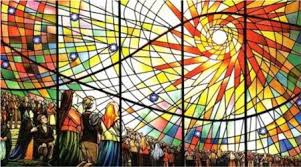 Dead Theologians Society (DTS)
Dead Theologians Society is a Catholic youth program which focuses on education on the lives of the saints. High school students meet on specific Sundays from 7-9pm at the SMSU Campus Religious Center.
SCHOENSTATT 2024 - SLEEPY EYE, MN
Registration begins Spring 2024
Camp Beloved (girls)
TBD (Gr 6-8) / TBD (gr 9-12)

Camp Greatness (boys)
TBD (Gr 6-8) / TBD (gr 9-12)
________________________________
GIRLS YOUTH SUMMER CAMP
SLEEPY EYE, MN
Registration opens 2024!
Various dates in June - click here for details
Schoenstatt, a German word meaning "beautiful place," provides an opportunity for your daughter(s) to experience the beauty of Catholic values and enjoy activities that provide instructive, spiritual enrichment. The camps are under the direction of the Schoenstatt Sisters of Mary. All members of the Schoenstatt Girls' Youth and interested Catholic girls ages 9 years and older are invited to participate in the camp sessions corresponding to their age group.
Click here to register for either or both days!
A retreat designed for youth grades 9-12 who want to "go deeper" in their faith and their relationship with Christ.
This retreat gives youth an opportunity for spiritual direction, prayer, games, and a general "retreat" from the craziness of life.
Attend this Transformational Catholic Event that offers conferences that evangelize, equip and empower high school youth to become radical, joyful disciples. Enjoy keynote speakers, praise and worship, Eucharistic Adoration, Reconciliation, and much more.
Learn more ator visit on Facebook, Instagram & Twitter (@PFYMN) - 952-224-0333
Minneota Area Mission Trip
Summer 2025 for youth grades 8-12
If you have any questions, please contact Emily Hennen via email, emhaugland@hotmail.com or 507-828-6797.
For youth grades 7-12.
Discounted tickets available! Contact DRE
It is one thing to say we are Christian but another to live it.
This Camp is designed to show the youth the importance of service and the truest meaning of the term Love thy Neighbor. At this event the youth will be exposed to Catholic Speakers. They will have a chance to meet other enthusiastic young Catholics from around the country. They will work with there hands to assist those less fortunate in the community.
Please take some time to view the Promo video to help yourself gain a better understanding of this opportunity to grow in Christ's love.
Camp Info
(TOGETHER ENCOUNTERING CHRIST)
TEC is a 3-day retreat that invites youth age 16+ and adults to encounter ​Jesus in a real way.

October 28-30, 2023 in New Ulm
February 17-19, 2024 in Marshall
June 22-24, 2024 in Bird Island
Visit www.riverbendtec.org for more information and registration form​
Summer 2024
Totus Tuus, which is Latin for "Totally Yours" (Pope St. John Paul II's motto), is a week-long summer catechetical program for youth.
A team of four young adults travel around the Diocese and teach youth in grades 1-6 during the day (M-F) about various themes of our Faith.
This daytime program consists of teaching, games, Holy Mass, and skits and runs from 9am to 2pm. In the evening, from 7:30-9:30pm (Sun-Thurs), a program for youth in grades 7-12 are invited to join the team for faith discussions, prayer time (including Adoration), games, and the opportunity to witness college students living a fully Catholic life.
Contact DRE if you would like to help in any way!
2 separate retreat experiences for grades 6-8 and 9-12.
D-Week is an incredible, life-changing retreat experience for Catholic teens! You will personally encounter God through, dynamic NET team, excellent music, practical presentations, Mass & Reconciliation, and outdoor activities.
Learn more & register at www.netusa.org/dweek